Understanding Locations
Megaport's global network infrastructure consists of carrier grade switching equipment hosted in data centers around the world. On the Megaport Enabled Locations page, you can search for nearby Megaport Points of Presence (PoP) where you can connect to the Megaport network.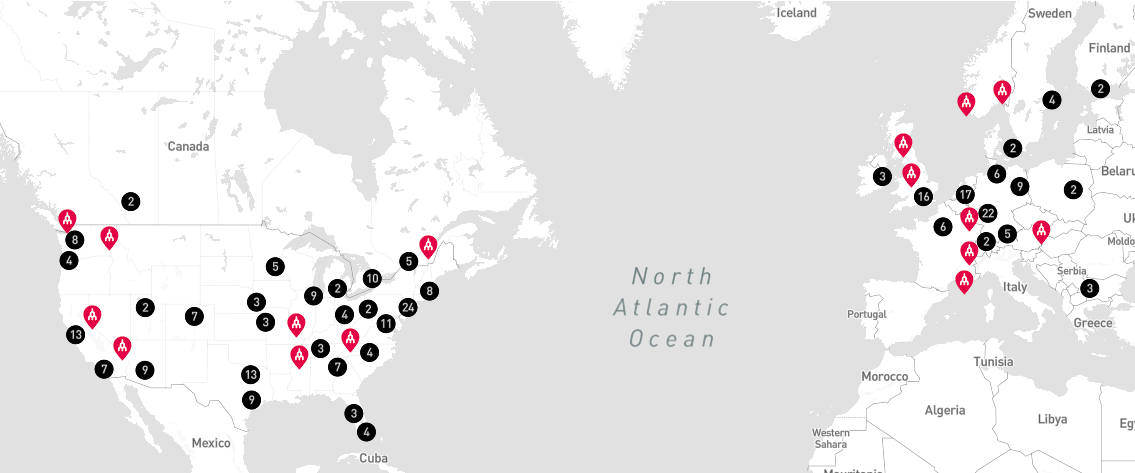 Using the Enabled Locations map
There are two types of locations where you can connect to Megaport's network:
Installed – These locations contain Megaport networking hardware, and you can connect to any of them through the Megaport Portal.
Extended – These locations share the same campus or metro area as an Installed Location. Megaport hardware is not located within the Extended Location facility, but you can access it through a private intra-campus or intra-metro cross connect. You can order this cross connect to the Megaport Installed location from your Data Center Operator at the Extended Location.
Enabled Locations encompass both Installed and Extended Locations.
To find a PoP on the Enabled Locations map
On the Megaport Enabled Locations page, click Find My Location.

You can also click Locations and filter by provider, geographical location, or Megaport service availability. You can search for locations where you can connect to a Megaport Virtual Edge (MVE), a 100 G Port, or a Megaport Cloud Router (MCR).

Enter a street address to drop a pin on the map.
The map zooms in on your specified address to include the pin and at least one Extended Location, if available.


A red pin represents an Installed Location, or Megaport PoP. A purple pin represents an Extended Location.

When you zoom out, a black marker indicates a geographical area with a cluster of locations. The number on the black marker indicates how many red pins are located in the cluster. Click the black marker to zoom in on the locations.

To connect to an extended location, click the purple pin and then click Enquire about this location. After you complete an enquiry form, a Megaport sales representative will reach out to you with information on setting up the physical cross connect.
Viewing latency times
The data used to calculate Megaport's network latency is collected from monitoring equipment in Megaport-enabled data centers worldwide, in 5-minute intervals. Monthly latency and packet delivery statistics are calculated by averaging all samples from that month.
There are two ways to view latency times for a PoP: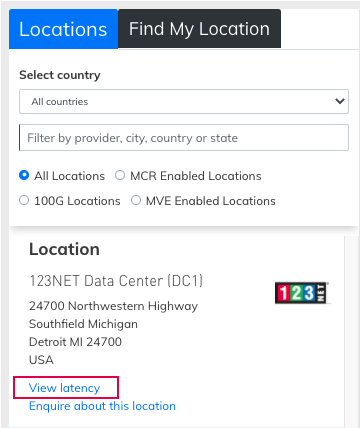 ---