VXC Pricing
The key factors that determine VXC pricing are the distance between the locations (the A-End and B-End) and the bandwidth that you configure.
There are three rate types based on distance:
Metro – A defined metropolitan area, usually a city or group of cities. A VXC connects two locations within the same city, such as:

Two Ports located in San Francisco
A Port and a Cloud Service Provider (CSP), both located in London

Zone – A group of metro areas, typically multiple states or provinces. A VXC connects any two metros within the same zone, such as:

Seattle and San Francisco (in the US West zone)

Interzone – Different cities in different zones. For example, an interzone VXC connects:

A Port in US West and one in US East
A Port in NE Asia and a CSP in AU North
Pricing zones and metros
| Pricing Zone | Indicative Metro |
| --- | --- |
| US West | Seattle, Reno, Los Angeles, Portland, Las Vegas, Phoenix, San Diego, Sacramento, Salt Lake City, Bay Area |
| US East | Ashburn, New York, Atlanta, Norwalk, Culpeper, Stamford, Miami, Boston, Philadelphia, Wise, Tampa, Pittsburgh, Orlando, Charlotte, Raleigh |
| US Central | Memphis, Grand Rapids, Detroit, Chicago, Dallas, Houston, Cincinnati, Austin, San Antonio, Denver, Kansas City, Columbus, St. Louis, Minneapolis, Nashville, Omaha |
| CA East | Toronto, Montreal, Quebec City, Ottawa |
| CA West | Calgary, Vancouver |
| Mexico | Mexico City, Querétaro |
| EU North | Brussels, Copenhagen, Rogaland, Luxembourg, Marseille, Amsterdam, Stockholm, Frankfurt, Berlin, Munich, Hamburg, Dusseldorf, Nuremberg, Helsinki, Oslo, Vienna, Geneva, Zurich, Warsaw, Paris, Madrid |
| EU West | Manchester, Edinburgh, London, Dublin, Birmingham |
| EU East | Sofia |
| Dubai | Dubai |
| AU Central | Adelaide |
| AU East | Wollongong, Sydney, Canberra |
| AU North | Brisbane |
| AU South | Melbourne |
| AU West | Perth |
| NZ | Auckland, Wellington, Hamilton |
| SE Asia | Singapore |
| East Asia | Hong Kong |
| NE Asia | Tokyo, Osaka |
This figure shows the available zones in Megaport's global network: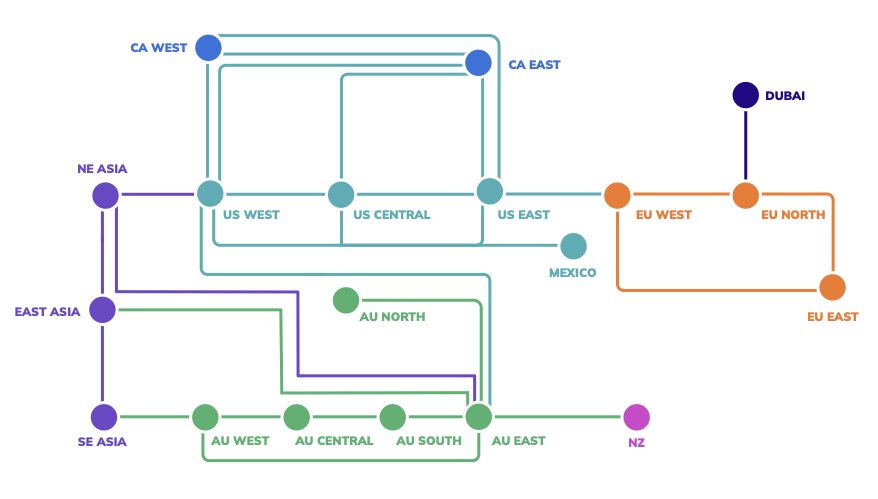 Pricing estimates
There are two easy options for obtaining a VXC price estimate:
Megaport Pricing Tool – Specify your A-End and B-End data center locations, bandwidth, and currency. On the graph that appears, you can experiment and drag the data rate speeds over a number of days. For example, you can specify different speeds for weekdays and weekends.

Important

Estimates generated in the Pricing Tool are not valid for AWS Hosted Connections, Alibaba, or the new pricing to designated providers, where incremental charges are applied.

Megaport Portal – Test different VXC configurations without any obligation. Create a Port to see how metros, zones, interzones, and data centers are priced. Create a VXC to get an immediate estimate in your currency before you deploy.
Note
By default, partner-managed accounts do not display pricing details. Discuss pricing directly with your partner.
How does billing work?
Metro VXCs are billed a recurring monthly flat fee based on three bandwidth tiers:
1 Mbps to 1 Gbps
1001 Mbps to 10 Gbps
10001 Mbps to 20 Gbps
Zone and interzone VXCs are priced using two components:
A recurring fixed fee.
Bandwidth-based rate (priced per Mbps per month).
This rate is based on the time a VXC is active at a defined speed and bandwidth.
Note
Megaport applies surcharges to cloud on-ramp VXCs with a B-End connecting to Alibaba, Amazon Web Services (AWS), AWS Hosted Connections, Azure, Google, Oracle, and SFDC for these VXC types:
VXCs connecting two ends in the same metro area
VXCs connecting two ends in different metro areas
Note
Megaport applies a surcharge based on the selected rate limit for any VXCs with a B-End connecting to France-IX.
See also VXC and IX Billing.
---