Megaport Letter of Authorization
Before you can establish the physical cross-connect from your data center to the new Megaport Port, you must present a Letter of Authorization (LOA) to your data center provider.
After you order a Port, an LOA is automatically generated and available for download in the Megaport Portal. Click Download LOA next to the new Port on the Services page.

The LOA is a PDF document that includes the patching details for the Megaport end and is required when placing a cross-connect with the data center. New Ports are not active until the data center operator establishes the physical cross-connect from your network device to the Port.
Term
Description
Issue Date
The date when the service was ordered.
LOA Issue Date
The date when the LOA was issued. If the LOA Issue Date has passed and expired, download another copy from the Megaport Portal to automatically update the Issue Date to today's date.
Issued By
The Megaport entity that you placed the service order through.
Requested By
The Megaport-approved party that will connect to our demarcation point.
Service ID
The unique identifier for your Megaport service.
Customer Demarcation/
Z Side
The demarcation details required by the data center. Some LOAs do not provide specific Port numbers. This generally indicates that Megaport will be required to complete patching at our end to finalize the cross-connection. Port details can be supplied to you after the cross-connect is complete. If the data center advises that the LOA demarcation is incorrect, forward your email correspondence to our Support team for assistance.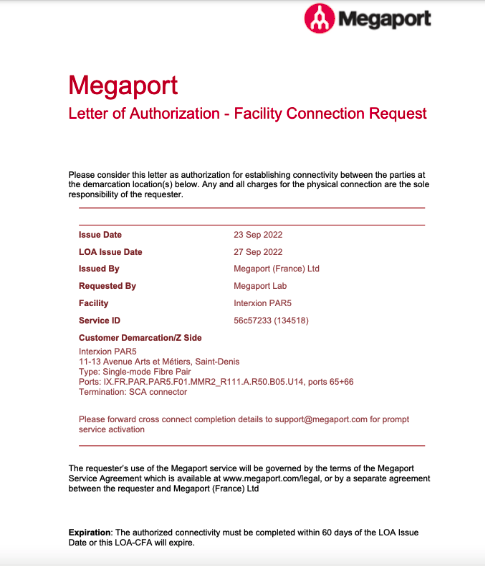 ---