
Creating a Link Aggregation Group
This topic describes Port link aggregation groups (LAGs), steps through how to add a Port to a LAG, and how to convert a non-LAG Port to a LAG Port.
A LAG bundles physical ports to create a single data path, where the traffic load is distributed among the ports to increase overall connection reliability. This feature provides aggregate bandwidth, enhanced resiliency, and efficient use of resources. Other terms used to describe a LAG include port trunking, link bundling, and channel bonding.
When you order a new Port that is 10 Gbps or higher, enabling the Link Aggregation Control Protocol (LACP) allows you to use it in a LAG. We recommend that you enable LACP even if you only require a single Port at that time. This prevents service interruption if later you decide to enable LACP on the Port. You can combine up to 8 physical Ports into a single LAG, and the Port price will update dynamically based on any additional Ports. All Ports within the LAG use the same Layer 2 MAC address. For details on how to create a Port, see Creating a Port.
Note
You can only enable LACP when creating a new Port.
Multiple Ports in a LAG configuration with multiple physical cross-connects reduce potential single points of failure that will stop the network from working if they go down. For example, networks using small form-factor pluggable (SFP) ports or optics.
This figure shows the overall design of a LAG configuration: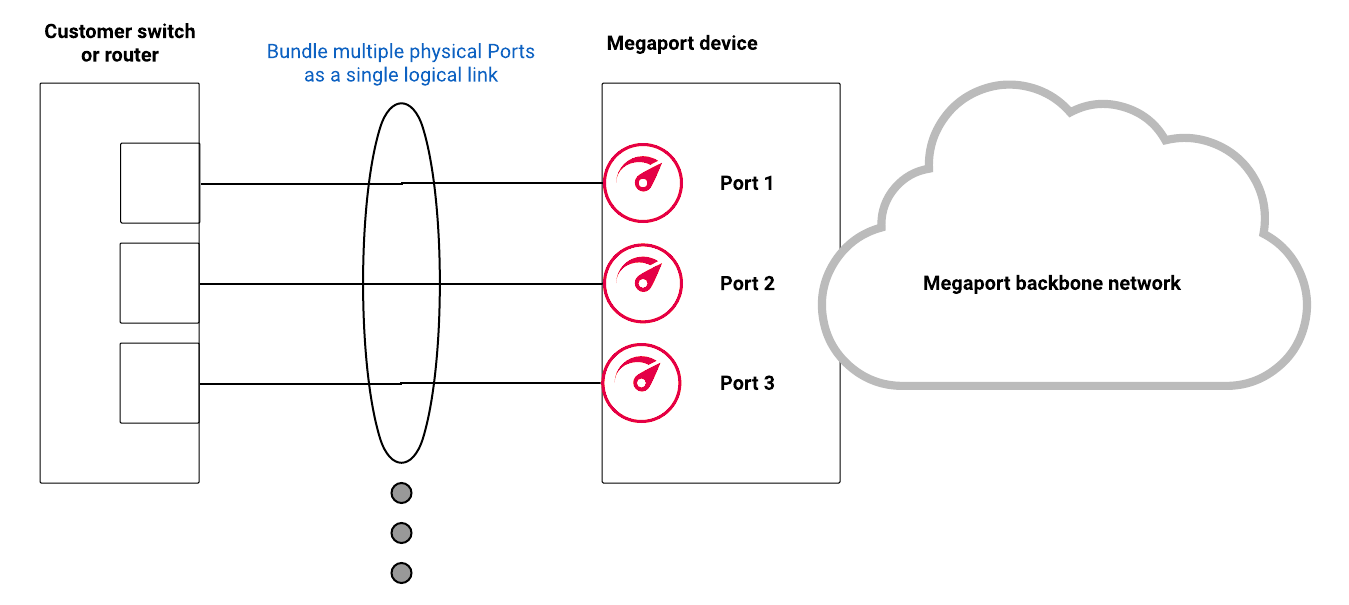 Port LAG specifications
| Specification | Port |
| --- | --- |
| Protocol | LACP (IEEE 802.1AX or previous IEEE 802.3ad standards) |
| Interface | 10GBASE-LR (10 Gbps) or 100GBASE-LR4 (100 Gbps) |
| Maximum number of interfaces in a single LAG | 8 |
Port LAG restrictions
Multi-Chassis Link Aggregation (MC-LAG) across multiple devices is not supported.
The LAG speed must be 10 Gbps or higher. 1 Gbps Ports are not supported in LAGs.
Bandwidth limitations
The available total bandwidth of a LAG is the sum of all Ports in the LAG. Virtual Cross Connect (VXC) bandwidth is still limited to the maximum bandwidth of any single Port in the LAG. However, local Ports in the same metro area as Internet Exchange (IX) services don't have this limitation. You can configure IX services to use the total amount of bandwidth capacity from all members in a LAG. IX services are the only connection type that can load share equally across all LAG members and does not apply when a VXC is used to extend to/from an IX connection outside of the local metro aggregation.
---
Last update: