
Introducing Megaport
Megaport is a software layer that interconnects people, enterprises, and service providers. Using Software Defined Networking (SDN), you can deploy private point-to-point connectivity between any of the locations on Megaport's global network infrastructure.
The Megaport network
Megaport's network enables fast, flexible, and on-demand connectivity to hundreds of global services. You can deploy services on-demand, with additions and changes completed in about 59 seconds through the Megaport Portal or API. Megaport connectivity is free of locked-in or inflexible contracts.
With an extensive footprint throughout Asia Pacific, North America, Europe and Middle East Megaport provides access from hundreds of locations.
Easy, flexible, and on-demand
As your business demands change, you can easily increase or decrease your bandwidth at any time.
Create and run a global network with or without the need for physical infrastructure.
Megaport network use is based on a pay as you go service model. Connections can range from 1 Mbps to 100 Gbps, depending on the data center.
Flexible contract terms that align with cloud consumption models.
Provision direct connectivity to the leading cloud and network providers on the Megaport network.
Connect to multiple cloud providers and cloud regions from a single interconnection point for cost-effective multi-region redundancy.
Secure and private connectivity
Establish seamless, point-to-point connectivity between regions and cloud service providers from your physical data center or without the need to own and manage hardware.
Keep your traffic secure when connecting between metros, regions, and countries.
The Megaport network does not traverse the internet. All cloud service provider (CSP) connections are enabled through their dedicated partner connections and fully integrated with CSP APIs.
Deploy scalable bandwidth between your data centers for storage backup and replication.
Manage your connectivity autonomously and optimize your workflow using Megaport's API.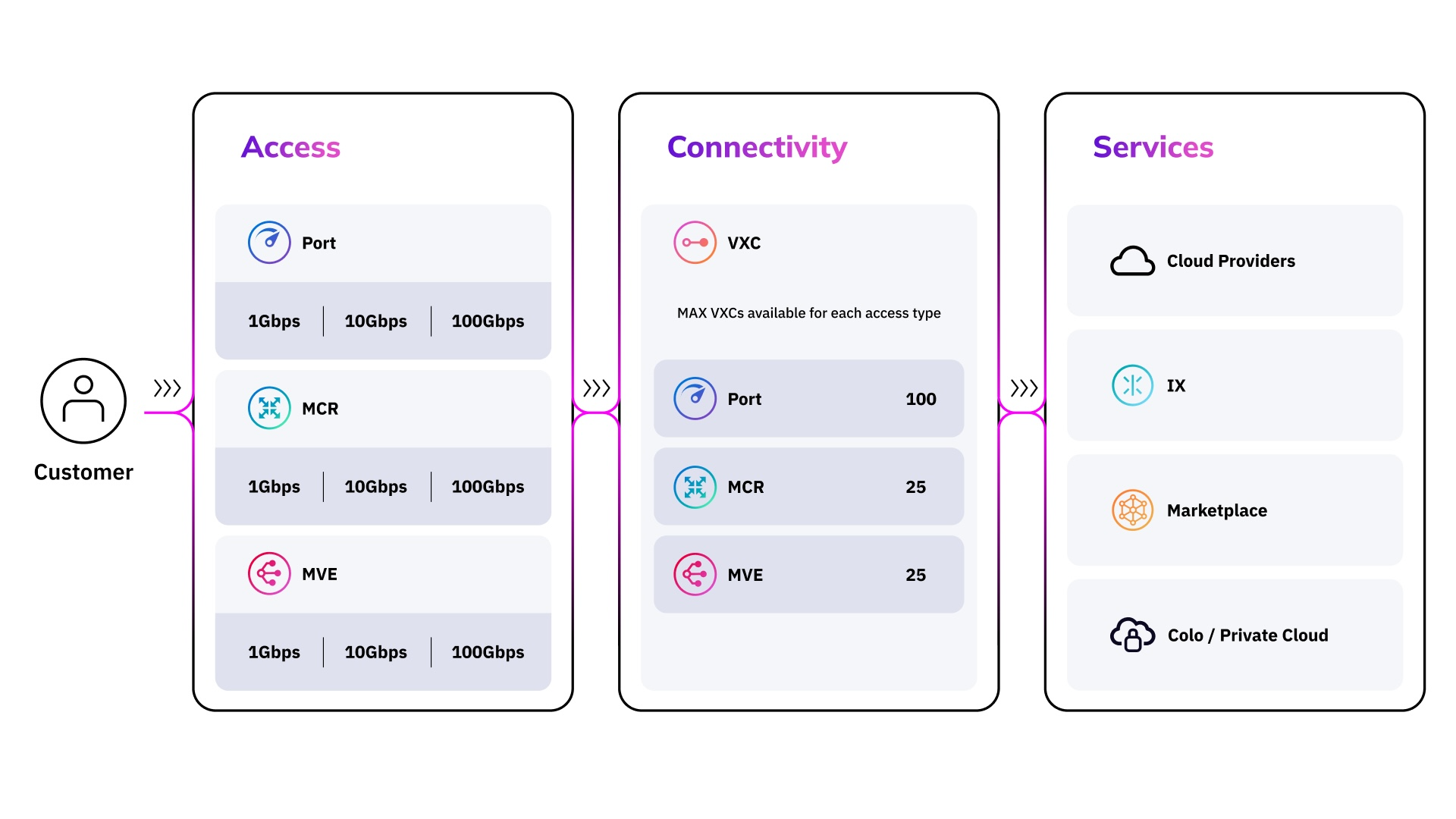 Services
Megaports - High-speed Ethernet interfaces (1G, 10G, and 100G ports) that connect to the Megaport network.
Virtual Cross Connects (VXCs) - Connections available between any two endpoints on the Megaport network with 1 Mbps to 10 Gbps of capacity.
Megaport Cloud Routers (MCRs) - Virtual router for on-demand, private, Layer 3 connectivity to service providers between key global routing zones.
Internet Exchange (IX) - Connect to content and services across multiple regions, exchanging traffic directly and reducing bandwidth usage on client Internet connections.
---
Last update: